Personnel
Open Company "Ukrnaftogasexpert" has considerable scientific and technical and personnel potential. At the enterprise successfully work both skilled and young experts. Leading experts of "Ukrnaftogasexpert" deal with problems of not destroying control more than 20 years. All workers of "Ukrnaftogasexpert" have higher education.
In Test Laboratory of Open Company "Ukrnaftogasexpert" work more, than 10 technical experts of the Ministries of Emergency Measures of Ukraine Gosgorpromnadzor, 15 experts of laboratory are certified for the second skill level in sphere of not destroying control, according to requirements of the international statutory acts, statutory acts of Ukraine and the Russian Federation.
Test laboratory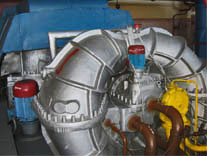 The Test laboratory carries out following functions:
The primary goals of test laboratory are:
Carries out tests/measurements of concrete objects and makes out test reports it agree to the concluded contracts;
Takes part in investigations of the reasons, failures and equipment failures;
Develops and constantly improves techniques and programs of measurements/tests, methods and means for their realization, standard and technological documents and internal procedures on their carrying out;
Develops and carries out actions for increase of professional level of employees of Test laboratory;
Carries out gathering, storage, ordering of the information on the spent measurements/tests. The received information should be used strictly confidentially (without infringement of the rights to trade secret protection);
Analyzes the best practices on carrying out of measurements/tests and by techniques of tests in a sphere of TL activity, including accredited.
The primary goals of test laboratory are:
Carrying out of measurements/tests on objects and delivery of reports, according to the established requirements (to the state and international standards, other standard documents, the requirements coordinated with the customer).