Quality Systems
The Open Company "Ukrnaftogazexpert" has operating from 2007 system of quality, with a full set of all documentation (a quality manual, techniques, working instructions etc.), which meeting the requirements of the international standards ISO IEC 17020, ISO IEC 17025.
We understand, that the quality of the executed works has a great importance for our Customers. That is why, we, in a due time, have made the decision on working out and introduction in our organization the system of quality answering to the international standards.
But we have not stopped on reached, because certification of a quality system of the organization under standard ISO 9001 is spent with a view of definition of its conformity to this standard, but such certification is not connected with acknowledgement of technical competence of laboratory.
In 2009 by DAkkS ( former DAP (Deutsches akkreditierungssystem prufwesen GmbH ) German Accreditation System for Testing) had been made the accreditation procedure (for the first time in Ukraine) our Test Laboratory (TL) and Department of inspection control (DIC) on conformity to requirements of standards ISO IEC 17020, ISO IEC 17025.
It, it is possible to tell, break for Ukraine since till now the Ukrainian laboratories have not been presented on the market of tests. And now we have the right to make the works, concerning whith our area of accreditation, worldwide.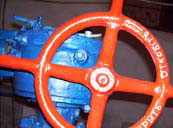 Quality Policy
In Open Company "Ukrnaftogazexpert" Quality manual has defined, that the Policy of Open Company "Ukrnaftogazexpert" in the field of quality of spent inspections and tests is the aspiration of a management and the personnel of Department of the inspection control and Test laboratory to use appropriate professional practice, the advanced methods and the modern equipment at carrying out of tests and an estimation of a condition of objects to guarantee to the Customer reliability of given results.
Annually we make the quality Program for forthcoming year, with which help, step by step, we improve all processes and mechanisms of our work.
For acknowledgement of our professional competence we are exposed to procedure of revaluation from body on accreditation DAKKs (dakks) and we take part in circular professional tests on ultrasonic researches, which are organized by Institut fur Einnungsprufung GmbH.
On a one level with other laboratories from all countries of the world in 2009 we have successfully passed circular tests, that is the proof of our professionalism.